PlayStation All-Stars Battle Royale E3 Trailer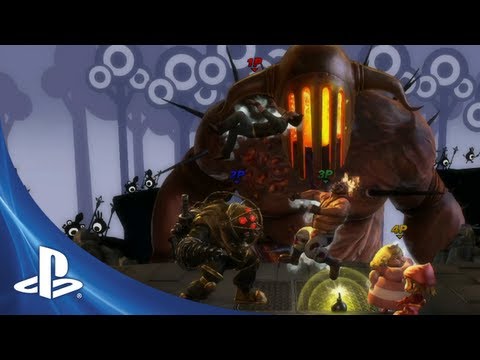 La risposta di Sony a Super Smash Bros. di Nintendo… tanto che hanno addirittura fatto la gaffe, subito corretta, di taggare questo video ufficiale "Super Smash Bros." su youtube… LOLLAI.
I guest characters per ora annunciati o scoperti sono:
– Big Daddy (Bioshock)
– Cole McGrath (inFAMOUS)
– Nathan Drake (Uncharted)
– Snake (Metal Gear)
– Colonel Radec (Killzone)
– Fat Princess (Fat Princess)
– Kratos (God of War)
– Parappa the Rapper (Parappa the Rapper)
– Sly Cooper (Sly)
– Sweet Tooth (Twisted Metal)
Ma ci sono voci incontrollate su tanti altri personaggi che potrebbero essere presenti, come Yorda (ICO), Sackboy (Little Big Planet), Ratchet (Ratchet & Clank), Nariko (Heavenly Sword) o Jak and Daxter (Jak and Daxter).
Who's gonna win?
– PlayStation All-Stars Battle Royale Wiki Guide (ign.com)
– Sony tags PlayStation All-Stars as 'Super Smash Bros.' on YouTube [Update: Removed!] (joystiq.com)