Tomorrowland 2012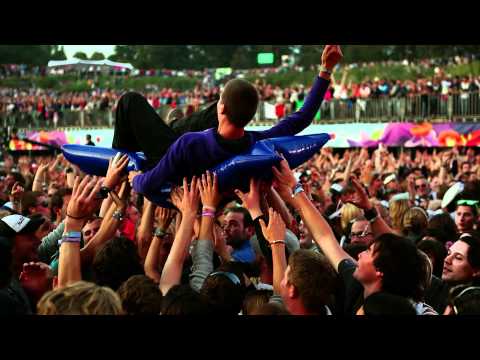 Tomorrowland è un festival di musica dance organizzato ogni anno nella cittadina belga di Boom, a partire dal 2005.
Il lunghissimo e fighissimo video qua sopra è il video promozionale per l'edizione del 2012 che si terrà il prossimo 27-28-29 luglio.
Il tutto è già sold-out da un pezzo, ma se vi piacciono i festival di musica dance, allora anche solo il video merita.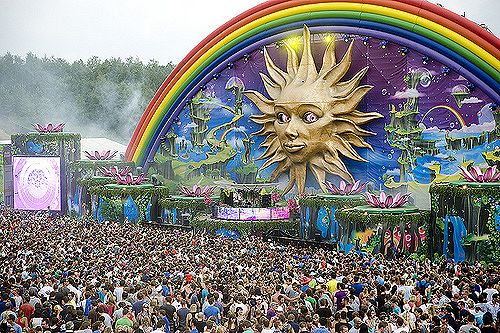 Impressionante la quantità di persone e l'organizzazione dei nuovi festival europei dance, eventi incredibili che, a prescindere dai propri gusti personali musicalmente parlando, non possono certo passare inosservati.
Ecco la lineup completa di quest'anno:
Tomorrowland 2012: Day 1 (Venerdì 27 Luglio 2012)
Mainstage: Avicii, Fatboy Slim, Bloody Beetroots, Calvin Harris, Alesso, Thomas Gold, Cazzette, Qulinez, Rebecca & Fiona, MC Stretch
Above & Beyond Group Therapy: Above & Beyond, Gabriel & Dresden, Mat Zo, Jaytech, Super8 & Tab, Norin & Rad, Boom Jinx, Nitrous Oxide
B2B: Skazi, Electric Universe, Yahel, J00f, Firaga, Talamasca, Norion, Synsun
Café D'Anvers: Jamie Jones, Joris Voorn, Guy Gerber, Maceo Plex, Ultrasone, Hermanez, Massimo Girardi, Prinz, Phil Monday
Carl Cox & Friends: Carl Cox, John Digweed, Marco Carola, UMEK, Christian Varela vs Marco Bailey, Yousef, Jon Rundell, Nicole Moudaber
Kne'Deep: Dj Rush, Marco Remus, Fatima Hajji, Huma Noyd, Dejan Milicevic, J. Fernandes
Q-Dance: Brennan Heart, Zany, The Prophet, Mark with a K, The Pitcher, Dj Ghost, Demoniak, Davoodi vs Bestien, Dr. Phunk, Gave, Mc Chucky
Steve Aoki and the Dim Mak Fight Club: Steve Aoki, Joachim Garraud, Zeds Dead, Autoerotique, Felix Cartal, Mustard Pimp, Sound of Stereo, Angger Dimas, TAI, Clockwork, Peace Treaty, South Central, Albin Meyers, Dan Sena, Jidax, D.O.D.
Twentyfive: Dirty Doering, Piloka Krach, Danny Faber vs Sese NU, Jake The Rapper, KooDoo vs La Maz
Untitled! invites Dub Police: Trolley Snatcha, The Others, Subscape, Eptic, Kastor & Dice, Hijak, Goldorak & Solpher, Jonas Lion, Daily, Ken Mac
We Play House Recordings: Martyn, Solomun, Ame, Deetron, San Soda, Red D feat. Lady Linn, Gustaph & Saxman
Tomorrowland 2012: Day 2 (Sabato 28 Luglio 2012)
Mainstage: Swedish House Mafia, Skrillex, Dimitri Vegas & Like Mike, Martin Solveig, Chuckie, Hardwell, NERVO, EC Twins, Wolfpack, MC Stretch
Area 2: Ferry Corsten, Porter Robinson
Area 8: Bingo Players, Michael Calfan, Felguk
Cocoon Heroes: Sven Vath, Extrawelt, Seth Troxler, André Galluzzi, Daniel Stefanik & Sascha Dive, Smos, Joachim vs BP
Ketaloco: Deltano, The Jelly Bellies, Gregor Tresher, Don Santosm Dj Tm Casparm David Augustm Don Cabron
Kozzmozz: Jeff Mills, The Advent, Luke Slater presents Planetary Assault Systems, Ben Klock, Terence Fixmer, Cari Lekebusch, Kr!z, Spacid
Parquet Recordings: Dave Seaman, Rodriguez Jr., Solee, Olivier Schories, Boss Axis, Takt Tick, Hauk n Baum
Q-Dance: Headhunterz, Noisecontrollers, Zatox, Wildstylez, Korsakoff, T'N'T aka Technoboy & Tuneboy, Ran-D, Code Black, The Activator, Lee Mac, MC DV8
Star Warz presents "Shogun Audio": Friction feat. MC Linguistics, Pendulum feat. MC Verse, Goldie, Icicle & Rockwell, The Prototypes, Alix Perez & Spectrasoul, One87 & Hookerz feat. MC Mush, Foxy Lady & MC Elvee, Etnik & Fuzz, Wontime & D Convict, Athys & Duster, Speedwagon & Stykz, Cedex & Higher Underground, SP:MC, MC Mantmast, DMC, MC V
Super You&Me: Laidback Luke, Sunnery James & Ryan Marciano, Zedd, Congorock, Swanky Tunes, Sandro Silva, Oliver Twizt
Tomorrowland 2012: Day 3 (Domenica 29 Luglio 2012)
Mainstage: David Guetta, Steve Aoki, Afrojack, Yves V, Nicky Romero, AN21, R3hab
Area 6: Dirty South, Roger Sanchez, Sander Van Doorn, Tommy Trash
Area 8: Dimitri Vegas & Like Mike, Gregori Klosman
Coincidence: Tom Dazing, Rebekah, Jeroen Search, Cesare vs Disorder, PsyTox & Kenny Raw, Anoesjka, Deejames, Niobeat
Daily Dubstep invites Wheel & Deal: N-Type & Walsh, Emalkay, Hatcha, Dismantle, MistaJam, Plastician, NGA Sound, Brownz & Requake ft. Mc Justiz, Artroniks, After 12 Crew, The Offenders, Primate, E-Vi, SP:MC, Mc Sgt Pokes, MC Crazy D
Dave Clarke Presents: Dave Clarke, Chris Liebing, Green Velvet, Derrick May, Miss Kittin, Joseph Capriati, Pierre
Forma.T: Cassius, Fake Blood, Surkin, Eats Everything, AKS, Surfing Leons ft. Miss Eaves, Bad Dancer, Kill Frenzy, Ego Troopers
Ovum Recordings: Josh Wink, Derrick Carter, Dj Sneak, Mark Farina, Steve Bug, Shlomi Aber, Bartholomeo, Patrick Schmidt, Tofke vs Ugur Yurt
Q-Dance: Coone, D-Block & S-te-Fan, Angerfist, Psyko Punkz, B-Front, Isaac, Da Tweekaz, Hard Driver, Sound Freakerz, Dr. Rude, MC Villain
Richie Hawtin presents ENTER: Richie Hawtin, Loco Dice, Dubfire, Paco Osuna, tINI, Hector
TranceAddict: Gareth Emery, John O'Callaghan vs Orjan Nilsen, Andy Moor, W&W, Sean Tyas, Tritonal, Tenishia, Myon & Shane 54, Ben Nicky, Leon Bolier
Woodstrasse: Marcus Meinhardt, Cue V vs Laurenzinho, Kollektiv Turmstrasse, Matthias Meyer, Cue V vs Laurenzinho, Curtis Zeki
E voi siete mai stati ad un Festival? l'estate sta arrivando, raccontateci le vostre esperienze e prossimi viaggi musicali.
– Sito Ufficiale: tomorrowland.be
– Tomorrowland 2012: la lineup degli artisti e dj (nightdisco.net)
– Tomorrowland (festival) (Wikipedia.it)
– :bazinga: by @power