Wreck-It Ralph – Teaser Poster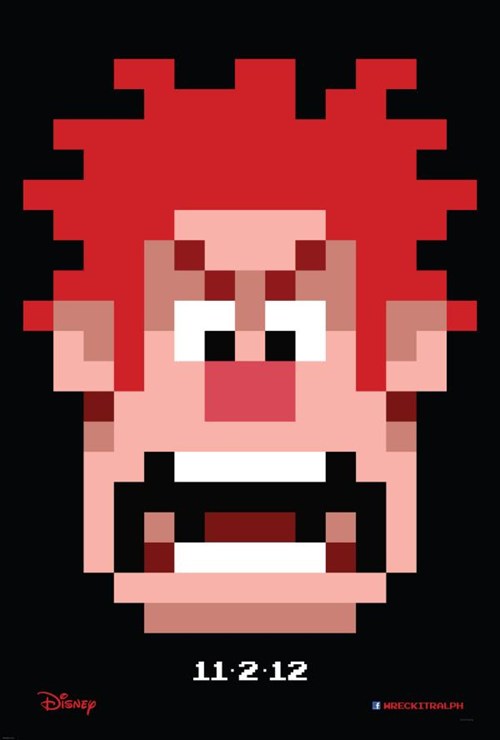 "Wreck-It Ralph (voice of John C. Reilly) longs to be as beloved as his game's perfect Good Guy, Fix-It Felix (voice of Jack McBrayer). Problem is, nobody loves a Bad Guy. But they do love heroes… so when a modern, first-person shooter game arrives featuring tough-as-nails Sergeant Calhoun (voice of Jane Lynch), Ralph sees it as his ticket to heroism and happiness. He sneaks into the game with a simple plan—win a medal—but soon wrecks everything, and accidentally unleashes a deadly enemy that threatens every game in the arcade. Ralph's only hope? Vanellope von Schweetz (voice of Sarah Silverman), a young trouble-making 'glitch' from a candy-coated cart racing game who might just be the one to teach Ralph what it means to be a Good Guy. But will he realize he is good enough to become a hero before it's 'Game Over' for the entire arcade?"
Wreck-It Ralph (in italiano tradotto in Ralph Spaccatutto…) è un nuovo film d'animazione in 3D targato Walt Disney Animation Studios diretto da Rich Moore (Futurama, The Simpsons, Drawn Together, così, per dirne tre a caso).
Il plot lo trovate nel quote qua sopra, l'uscita USA è prevista per il 2 novembre 2012, in Italia questo omaggio al retrogaming dovrebbe uscire il 21 dicembre 2012 (OMG #2012).
Nel film vedremo i cameo di Bowser di Super Mario Bros., Doctor Eggman di Sonic the Hedgehog, Kano di Mortal Kombat, i fantasmini di Pac-Man, Doctor Wily di Mega Man, Zangief from Street Fighter e Coily the Snake di Q*bert.
Oltre al teaser poster pubblicato pochi giorni fa, non ho trovato online nessun trailer ancora, le poche immagini disponibili le trovate qua sotto in gallery, enjoy!
[nggallery id=496]