Robot quadrirotore volanti suonano il tema di James Bond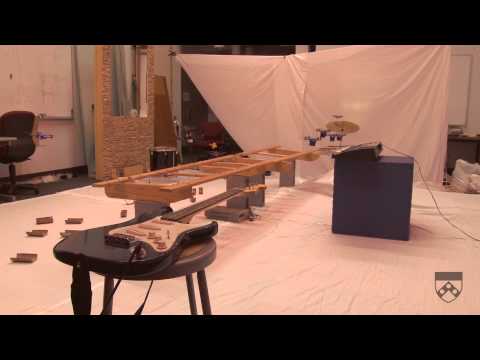 Flying robot quadrotors perform the James Bond Theme by playing various instruments including the keyboard, drums and maracas, a cymbal, and the debut of an adapted guitar built from a couch frame. The quadrotors play this "couch guitar" by flying over guitar strings stretched across a couch frame; plucking the strings with a stiff wire attached to the base of the quadrotor. A special microphone attached to the frame records the notes made by the "couch guitar".
These flying quadrotors are completely autonomous, meaning humans are not controlling them; rather they are controlled by a computer programed with instructions to play the instruments.
Non c'è molto da aggiungere a questo video dove appunto alcuni robot quadrirotore volanti (o quadrotor che dir si voglia), suonano il tema di James Bond con svariati strumenti musicali.
L'esperimento è stato realizzato da alcuni studenti di ingegneria e scienze applicate della Pennsylvania che hanno creato i robot volanti e hanno deciso anche di commercializzarli.
Per saperne di più, guardate sul sito qua.