The Lively Morgue – le foto storiche del New York Times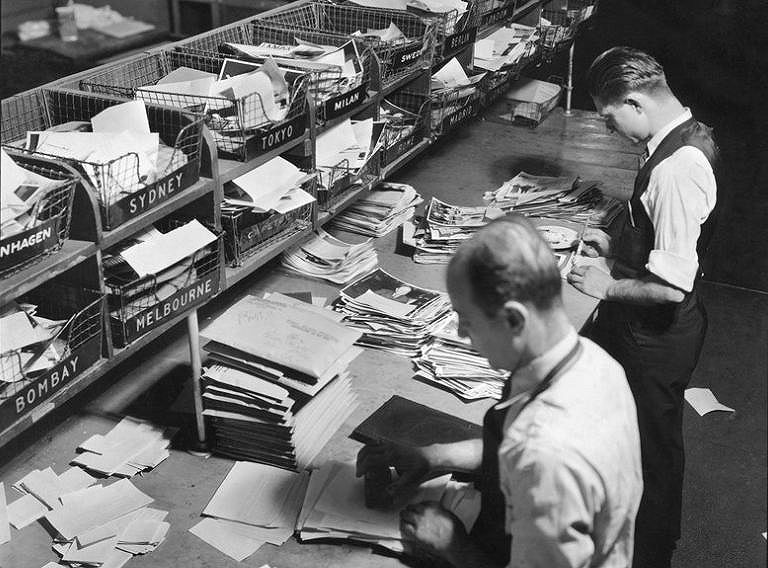 An archival photo from The New York Times shows news pictures being sorted in the newspaper's photo "morgue," which houses millions of images. Here they are — several each week — for you to see. Welcome to The Lively Morgue.
Quelli nella foto sono due impiegati del New York Times mentre catalogano le immagini per "l'obitorio delle foto" del giornale.
Il New York Times ha appena aperto "The Lively Morgue", un tumblr dove posteranno giorno per giorno foto prese dall'archivio del giornale, importanti documenti storici e/o artistici che racconteranno la storia del quotidiano, degli USA e del mondo.
Impressionante il numero di foto presenti nell'archivio:

How many? We don't know. Our best guess is five million to six million prints and contact sheets (each sheet, of course, representing many discrete images) and 300,000 sacks of negatives, ranging in format size from 35 millimeter to 5 by 7 inches — at least 10 million frames in all. The picture archive also includes 13,500 DVDs, each storing about 4.7 gigabytes worth of imagery. When the Museum of Modern Art set out to exhibit the highlights of the Times archive in 1996, it dispatched four curators. They spent nine months poring over 3,000 subjects, working with two Times editors, one of whom spent a year on the project. In the end, they estimated that they'd seen only one-quarter of the total.
Una piccola chicca: per tutte le foto posteranno sia il fronte, l'immagine, che il retro dove spesso sono annotate importanti informazioni storiche (numero di sequenza, prezzo pagato al fotografo, agenzia, soggetto etc).
Imperdibile per gli appassionati di fotografia e fotogiornalismo.