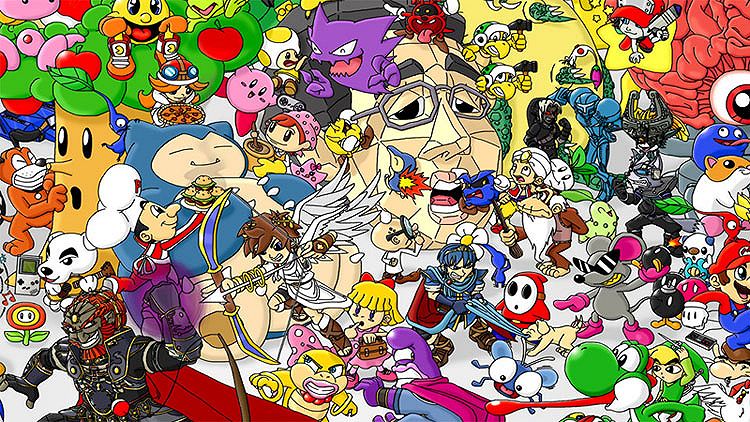 AUTHOR: Luis Carrasquillo
DATE: JAN/19/11 – OCT/26/11

A total of 304 characters from the vast history of Nintendo make an appearance in this artwork. Including many recognizable faces such as Mario, Kirby and Link. You'll also find characters that only the older gamers will recognize and then there's characters that only the most dedicated Nintendo fans will be familiar with. There's also a total of 73 items, vehicles, consoles, handhelds and miscellaneous stuff. In addition, 55 third party characters, who's games have help build the great catalogs that Nintendo consoles have enjoyed throughout it's history, make an appearance. Retro legends, videogame icons, past rivals, longtime partners and new supporters. They're all here.

Per l'immagine intera clicca qui. (quasi 15mega! New Record!)
Un altro pazzo furioso di un artista, al pari di Other-in-Law.
Luis Carrasquillo ci ha messo più di 9 mesi per completare quest'opera gargantuesca e non si è limitato a disegnare solo gli eroi più conosciuti della Nintendo come Mario, Zelda o Donkey Kong, ma ha incluso tutti, se non quasi, i personaggi e pure gli oggetti che hanno a che fare con la Nintendo. Pensatene uno e lo troverete là dentro.
Fanboy :D
Se non avete nulla da fare potete mettervi a spulciare l'immagine e trovare tutti i characters, ma ho l'idea che ci impieghereste come minimo il tempo che ci è voluto per disegnare tutto.
Perciò, rigorosamente in spoiler, la luuuuuuunga lista dei personaggi e degli oggetti usati per questo lavoro gigantesco.

Spoiler
SUPER MARIO: Mario, Luigi, Princess Peach, Toad, Blue Toad, Yellow Toad, Toadsworth, Yoshi, Pink Yoshi, Yellow Yoshi, Blimp Yoshi, Baby Mario, Princess Daisy, Professor E. Gadd, Rosalina, Baby Luma, Yellow Luma, Polari, Luba, Bob-Omb Buddy, Geno, Mallow, Bowser, Bowser Jr., Larry, Morton, Wendy, Iggy, Lemmy, Roy, Ludwig, Kamek, Goomba, Koopa Troopa, Piranha Plant, Hammer Bros., Lakitu, Spinies, Cheep-Cheep, Blooper, Bob-Ombs, Bullet Bill, Chain Chomp, Shy Guy, Petey Piranha, King Boo, Boo, Wart, Birdo, Mouser, Tatanga, Cackletta, Fawful, Count Bleck, Shellcreeper, Sidewalker, Fighter Fly, Gotcha Wrench, Eggplant Man, Foreman Spike, Red Virus, Blue Virus, Yellow Virus, Waluigi
WARIO: Wario, Captain Syrup and Mona
DONKEY KONG: Donkey Kong, Diddy Kong, Dixie Kong, Cranky Kong, Funky Kong, King K. Rool, Kritter, Zinger, Tiki, Pauline, Donkey Kong Jr., Fire
THE LEGEND OF ZELDA: Hero of Time Link, Classic Link, Wind Waker Link, Wolf Link, Minish Link, Green Link, Red Link, Blue Link, Purple Link, Princess Zelda, Sheik, King Hyrule, Fi, Navi, Midna, Skull Kid, Happy Mask Salesman, Ezlo, Linebeck, Tingle, Kaepora Gaebora, Cucco, Ganon, Ganondorf, Dark Link, Agahnim, Majora, Vaati, Zant, Ghirahim, Octorok, Moblin
METROID: Samus Aran, Adam Malkovich, Chozo, Metroids, Ridley, Space Pirate, Kraid, Mother Brain, Dark Samus
KIRBY: Kirby, Meta Knight, Prince Fluff, Gooey, Rick the Hamster, King Dedede, Waddle Dee, Waddle Doo, Gordo, Whispy Woods, Dark Matter, Zero, Nightmare, Magolor
STAR FOX: Fox McCloud, Falco Lombardi, Slippy Toad, Peppy Hare, Krystal, Wolf O'Donnell, Andross
F-ZERO: Captain Falcon, Samurai Goroh, Black Shadow
MOTHER/EARTHBOUND: Ness, Paula, Jeff, Poo, Ninten, Lucas, Porkey, Mr. Saturn, Starman
POKÉMON: Pokémon Trainer, Rival, Professor Oak, Bulbasaur, Ivysaur, Charmander, Charizard, Squirtle, Blastoise, Pidgey, Rattata, Pikachu, Jigglypuff, Meowth, Haunter, Snorlax, Mewtwo, Mew, Chikorita, Cyndaquil, Totodile, Hoothoot, Togepi, Wobbuffet, Lugia, Celebi, Treecko, Torchic, Mudkip, Metagross, Rayquaza, Jirachi, Deoxys, Turtwig, Chimchar, Piplup, Shinx, Lucario, Croagunk, Darkrai, Snivy, Tepig, Oshawott, Patrat, Darmanitan, Zoroark, Emolga
ANIMAL CROSSING: Boy, Girl, Tom Nook, K.K. Slider, Rover, Resetti
PIKMIN: Captain Olimar, Red Pikmin, Blue Pikmin, Yellow Pikmin, White Pikmin, Purple Pikmin
KID ICARUS: Pit, Palutena, Magnus, Eggplant Wizard, Monoeye
FIRE EMBLEM: Marth, Ike
PUNCH-OUT!!: Little Mac, Doc Louis, King Hippo, Bald Bull
DUCK HUNT: Ducks, Dog
BALLOON FIGHT: Balloon Fighter, Enemy
ICE CLIMBER: Popo, Nana, Topi
EXITEBIKE: Exite Biker
MACH RIDER: Mach Rider
CLU CLU LAND: Bubbles
ADVENTURES OF LOLO: Lolo, Lala
PILOTWINGS: Goose
SIMCITY: Doctor Wright
ADVANCE WARS: Andy
CUSTOM ROBO: Ray Mk II
THE LEGENDARY STARFY: Starfy, Starly
GOLDEN SUN: Isaac
CHIBI-ROBO: Chibi-Robo, Telly Vision
NINTENDOGS: Nintendog
BRAIN AGE: Professor Kawashima
BIG BRAIN ACADEMY: Doctor Lobe
RHYTHM HEAVEN: Choir Boys
ELITE BEAT AGENTS: J, Derek, Morris
ELECTROPLANKTON: Hanenbow
PANEL DE PON: Lip
DEVIL WORLD: Tamagon, Devil
DOKI DOKI PANIC: Imajin
DOSHIN THE GIANT: Doshin
JOY MECH FIGHT: Sukapon
SUPER SMASH BROS.: Master Hand, Fighting Wire Frame, Tabuu
NES: R.O.B.
GAME & WATCH: Mr. Game & Watch
DISK SYSTEM: Diskun
Mii CHANNEL: Miis
AR GAMES: Mr. AR
3rd PARTY CHARACTERS:
Sonic the Hedgehog © Sega
Mega Man, Ryu from STREET FIGHTER, Leon Kennedy from RESIDENT EVIL, Arthur from GHOST N' GOBLINS, Phoenix Wright from ACE ATTORNEY, Amaterasu from OKAMI and Viewtiful Joe © Capcom
Pac-Man, Galagan Commander from GALAGA and Taizo Hori from DIG DUG © Namco
Solid Snake from METAL GEAR SOLID, Simon Belmont from CASTLEVANIA, Bill Rizer and Lance Bean from CONTRA, Goemon and Frogger © Konami
Bomberman, Master Higgins from ADVENTURE ISLAND and Bonk © Hudson
Moogle and Chocobo from FINAL FANTASY, Slime from DRAGON QUEST, Sora from KINGDOM HEARTS and Crono from CHRONO TRIGGER © Square Enix
Banjo, Kazooie and Mumbo Jumbo from BANJO-KAZOOIE, Fulgore from KILLER INSTINCT and Rash from BATTLETOADS © Rare
Rayman, Rabbid from RAVING RABBIDS and RED STEEL 2 hero © Ubisoft
Tetrominoes from TETRIS © Tetris Company
Space Invader © Taito
Q*Bert © Gottlieb
Paper Boy © Atari
Peter Pepper from BURGERTIME © G-Mode
Billy and Jimmy Lee from DOUBLE DRAGON © Techos Japan
Bub from BUBBLE BOBBLE © Taito
Ryu Hayabusa from NINJA GAIDEN © Tecmo
Scorpion from MORTAL KOMBAT © Netherrealm Studios
Earthworm Jim and Snott, Bad Mr. Frosty from CLAYFIGHTER © Interplay
Jack from HARVEST MOON © Marvelous Entertainment
Zeke from ZOMBIES ATE MY NEIGHBORS © LucasArts
Duke Nukem © Gearbox Software
Travis Touchdown from NO MORE HEROES © Grasshopper Manufacture
Professor Layton © Level-5
Mama from COOKING MAMA © Cooking Mama Limited
Maxwell from SCRIBBERNAUTS © 5thCell
Quote from CAVE STORY © Studio Pixel
Commander Video from BIT.TRIP © Gaijin Games
All characters, items and other miscellaneous from Super Mario Bros., Donkey Kong, WarioWare, The Legend of Zelda, Metroid, Kirby, Star Fox, F-Zero, Mother/Earthbound, Pokémon, Animal Crossing, Pikmin, Kid Icarus, Fire Emblem, Punch-Out!!, Duck Hunt, Balloon Fight, Ice Climber, Exitebike, Mach Rider, Clu Clu Land, Adventures of Lolo, PilotWings, SNES' SimCity, Advance Wars, Custom Robo, The Legendary Starfy, Golden Sun, Chibi-Robo, Nintendogs, Brain Age, Big Brain Academy, Rhythm Heaven, Elite Beat Agents, Electroplankton, Nintendo Puzzle Collection, Devil World, Doki Doki Panic, Doshin the Giant, Joy Mech Fight, Super Smash Bros., NES' Robotic Operating Buddy, Game & Watch, Disk System, Miis and 3DS' Augmented Reality Games, consoles and handhelds © Nintendo