Il motore V12 più piccolo del mondo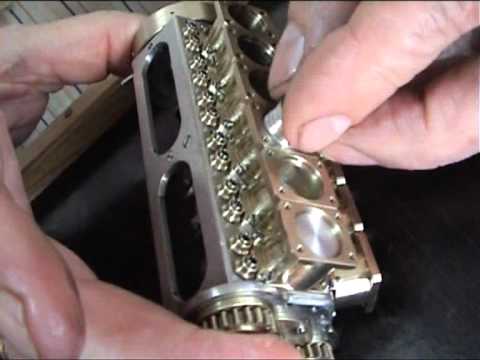 V12 engine with compressed air injection, hand made using traditional methods: 12cm3 of displacement, the diameter of the cyllinder is 11,3 mm, the stroke of the pistons 10mm, it works with only 0,1kg/cm2.
Is constructed with stainless steel, aluminum and bronze.
Patelo dedicate this engine to his grandchildren: Sara, Carmen, Jose and Pablo.
This engine is for education, exhibitons, etc., that is the reason to work with compressed air, to avoid contamination.
He has made the plans and all parts, except the screws.
The engine is not for sale.
Se vi appassiona la meccanica, e non necessariamente solo le auto, questo video potrebbe commuovervi.
Questo nerdissino signore monta in cucina un motore V12 completamente autocostruito da 12 centimetri cubi di cilindrata, praticamente un lavoro di orologeria.
Manca tutta la parte "termica" (carburatore e accensione non ci sono), gira grazie all'aria compressa iniettata nell'aspirazione, ma quando, a 8 minuti circa, comincia a girare, il suono della distribuzione ad aste e bilanceri diventa una vera musica. ;)
1220 ore di lavoro… mecojoni.
Via BoingBoing.