Vagabond: Mobile Safe House Device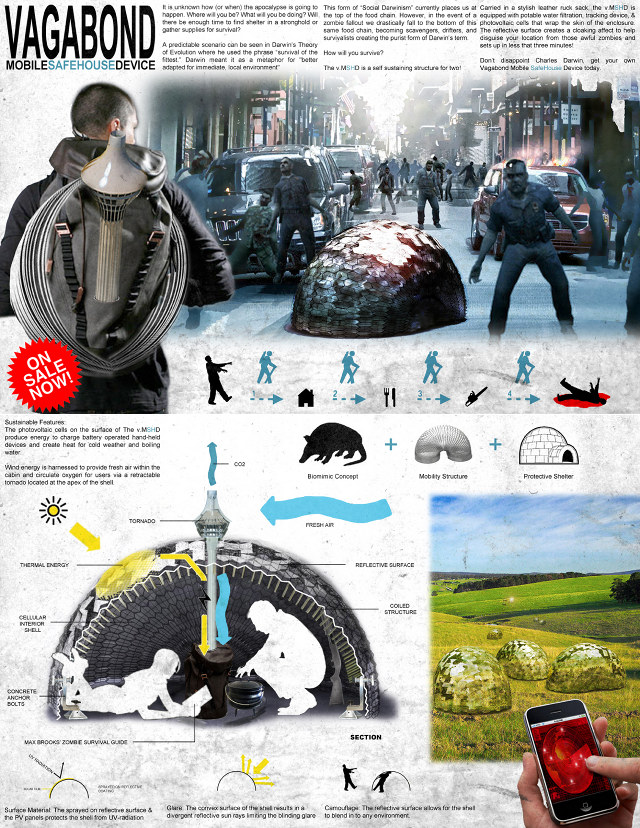 It has reflective camouflage on the outside, allowing it to blend in with its environment, and it features photovoltaic cells that can provide heat, boil water, and charge electronic devices. The Vagabond also has a wind-powered ventilator, a water filtration system, and an iPhone-compatible tracking device. It doesn't move under its own power, but it folds up, slinky-style, so you can carry it as a backpack.
L'apocalisse zombie è vicina, non vorrete certo farvi trovare impreparati! ecco allora a voi Vagabond, vincitore dell'edizione 2011 della Zombie Apocalypse Safe House competition, progettato da Austing Fleming.
Avevamo già parlato di questo concorso lo scorso anno presentandovi la fantastica barca super attrezzata: Una roccaforte galleggiante contro gli zombie
Quest'anno il vincitore del concorso è uno zaino tattico che si trasforma in un igloo reso mimetico da uno spray riflettente e ricoperto di celle fotovoltaiche che ne consentono l'indipendenza energetica.
Un camino dotato di ventola attivata dal vento consente poi il riciclo dell'aria e un'applicazione per smartphone ne consente la localizzazione in caso vogliate essere social anche in mezzo ad un'orda di zombie.
Andate a vedervi anche gli altri vincitori di quest'anno, be prepared!