Juan Osborne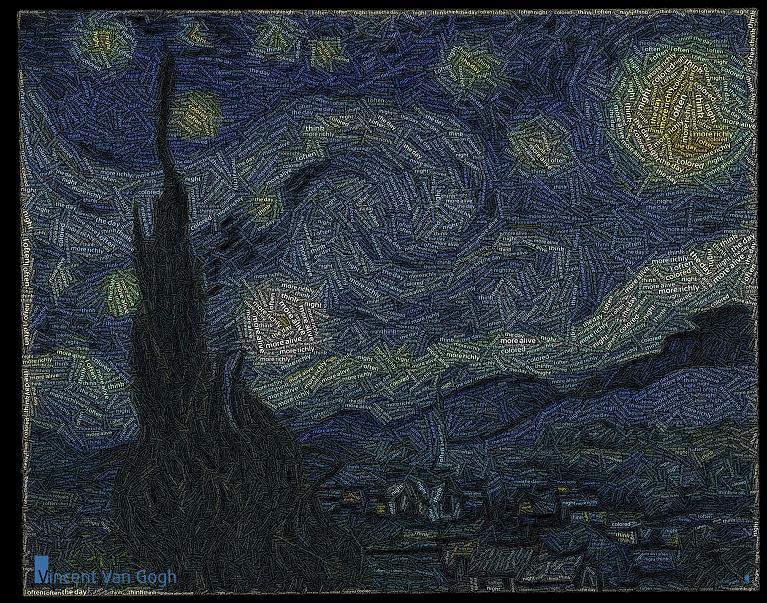 I often think that the night is more alive and more richly colored than the day. Van Gogh
Words are powerful, they go straight into the human mind and really add something to my pictures that you can' get from a regular picture taken with a camera.
Juan Osborne è un architetto, designer e programmatore spagnolo; le opere che realizza sono, generalmente, ritratti composti da parole, citazioni dei personaggi raffigurati.
Le sue opere, composte da più di 200.000 parole, sono create con un suo software, in grado anche di compiere un'analisi dei testi, in modo che il calibro delle parole che compongono i ritratti siano proporzionali al numero di volte in cui sono ripetute dal personaggio raffigurato.
There are no limits to creativity – if I need something or think of a new way to make something I just create a new application to do it. I feel free without the need for commercial software.
Nel caso dei ritratti di Alfred Hitchcock e di Steve Jobs, invece, ha utilizzato, rispettivamente, fotogrammi dei suoi film e prodotti Apple.
Sito web | JuanOsborne.com
Profilo Linkedin | Juan Osborne Sánchez
[nggallery id=166]