Use the Force for Good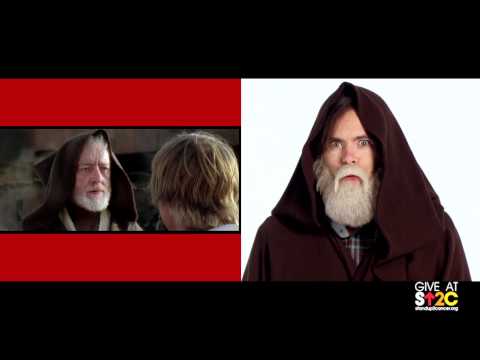 Use the Force for Good at www.su2c.com/usetheforce. Stand Up To Cancer Celebrity Ambassadors Aziz Ansari, Zach Galifianakis, Bill Hader, Ed Helms, Ken Jeong, Jaime King, Seth Rogen, Andy Samberg and Emma Stone – along with Star Wars alum Samuel L. Jackson – each Use the Force for Good as they recreate classic Star Wars scenes to raise awareness for cancer research.

In concomitanza con l'uscita in BD della Saga (quella costituita dalla Trilogia* più altri lungometraggi prequel) viene lanciata dall'associazione SU2C (Stand Up To Cancer) una campagna benefica caratterizzata dalla produzione di tre t-shirt a tema in vendita per la raccolta fondi per la lotta contro il cancro.
Will the Real Slim Jedi please stand up?
*
[more] Esiste UNA sola Trilogia. [cit] [/more]
Via SU2C Store