26 Marzo Ora della Terra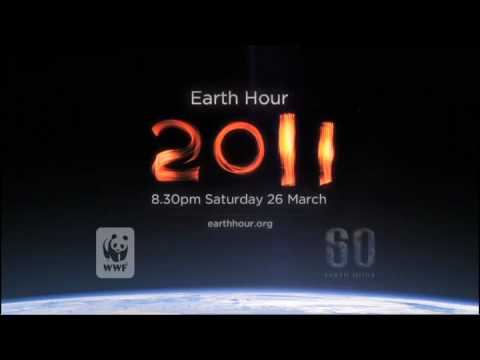 Video in inglese dell'iniziativa.
This is the 60 sec version of the official TVC for Earth Hour 2011.
This Earth Hour 2011: 8.30pm, Saturday 26 March, celebrate your action for the planet with the people of world, and add more to your Earth Hour.

From its inception as a single-city initiative — Sydney, Australia – in 2007, Earth Hour has grown into a global symbol of hope and movement for change. Earth Hour 2010 created history as the world's largest ever voluntary action with people, businesses and governments in 128 countries across every continent coming together to celebrate an unambiguous commitment to the one thing that unites us all — the planet.

Sign up to earthhour.org, switch off your lights for Earth Hour 2011, and share the positive actions you will sustain for earth beyond the hour.
Oggi 26 Marzo è l'ora della terra, e voi vi chiederete che cavolo è? L'Ora della Terra, è un evento globale organizzato dal WWF, 4000 città e 128 paesi, Oggi 26 Marzo 2011 dalle ore 20:30 alle 21:30. Ognuno potrà partecipare all'iniziativa spegnendo la luce per un'ora: un gesto simbolico attraverso il quale è possibile sensibilizzare l'opinione pubblica su un tema importante come quello della salute del nostro pianeta e della necessità di andare verso un futuro più sostenibile.
Per more info:
Link Italiano – WWF
Ulteriori Video by Personaggi Italiani – WWF
Chissà che la lega per l'evento non torni "nera" come un paio di mesi fà? :) You tube ha implementato un interruttore vicino al titolo dei video per avere il resto della pagina nero e quindi consumare meno.
Canale su You Tube
Sito ufficiale
Bazinga by: SpaceClown