10000$ per un Kickflip col Surf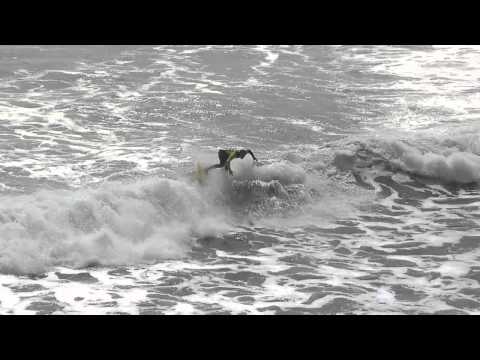 First Pulled Kickflip for Volcom contest Zoltan Torkos
March 4th 2011.
Steamers Lane, Santa Cruz CA
Il contest della Volcom è aperto dal 2007 e vale 10.000$ ma ci sono determinate regole da seguire per vincere l'ambito premio:
1. Your entry must be on video from the start of the trick through the ride out. No photos allowed.
2. This contest is open to everyone. The contest begins today November 21st, 2007, and will run until there's a winner.
3. The kickflip must be a real air "above the lip" – No backwash, No chop hops, or anything in the flats or below the lip of the wave.
4. All waves must be self caught – You must paddle into the wave. This means NO tow-ats, step-offs, jetskis, boats, dinghys, winches, canoes, oars, helicopters, dolphins or assistance of any kind.
5. No grabs of any kind. Not before, not after, not during.
6. You must completely "ride out" of the kickflip. That means if you land on the back of the wave and fail to continue surfing the wave – it's not a make!
7. No heelflips. Or else we'd have called it the Heelflip-Off.
8. No shoes. Who surfs in shoes anyway? Regular "made for surfing" booties are acceptable.
9. You must be riding a real surfboard with at least one fin. No boogie boards, softboards, wakeboards, wakeskates, skimboards, kiteboards, trays etc.
La Volcom, potrebbe questionare soprattutto sulla regola 3 perchè pare che il flip non sia proprio in cima all'onda, ma tant'è.
Al bravo Zoltan (che solo per il nome si merita di essere capo supremo di qualsiasi cosa), diamo l'onore del primo Kickflip in Surf interamente documentato.