Star Wars Miniland a LegoLand California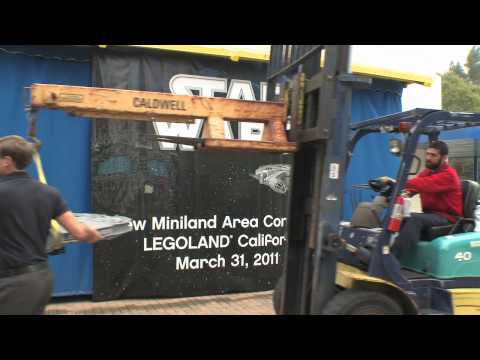 The Millennium Falcon was spotted flying over Washington D.C. today at LEGOLAND California as the first wave of LEGO models for the new STAR WARS™ Miniland area arrived. Master Model Builders unloaded crates containing several models including the Millennium Falcon, an Imperial AT-AT, an AT-ST and an X-wing fighter. The models are the first of 2,000 arriving to be installed in the new STAR WARS Miniland area opening in March at the family theme park in Carlsbad.

LEGOLAND California will be the first of three LEGOLAND Parks to launch a new STAR WARS Miniland area. The area includes seven scenes — six of the most famous scenes from the six live-action STAR WARS movies, as well as one from the animated series STAR WARS: THE CLONE WARS™ all made out of 1.5 million LEGO bricks and built in 1:20 scale.
http://www.legoland.com