TDK Three Speaker Boombox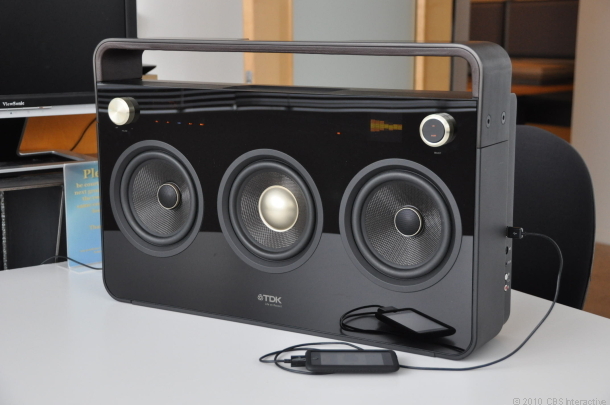 Feature-wise, you're looking at iPhone/iPod support (via USB), AM/FM radio, USB stick (MP3, AAC, WMA), and a slew of aux input options, including RCA, minijack, and a 1/4-inch instrument input that can be blended with the other audio for instant karaoke/block party high jinks. The unique audio support for iPhone and iPod takes the digital signal from the dock connection and decodes it to analog using TDK's own integrated converters. The company also throws in an EQ with 5dB of cut and boost, represented on an OLED display on the front and controlled using the system's oversized aluminum knobs.
OMG! speriamo proprio che la TDK sia solo la prima a tentare il ritorno delle Boombox in grande stile!
Appena annunciata, questa TDK Three Speaker Boombox mi pare un ottimo inizio, ma vogliamo di più! e lo vogliamo con un design più anni '80, questo design minimale, su un oggetto così grande (vedi la foto con il tizio) non mi pare azzeccatissimo.
In ogni caso attendiamo con ansia l'arrivo di questo Three Speaker Boombox, sperando non costi un occhio della testa.