The Avenger Controller for Xbox360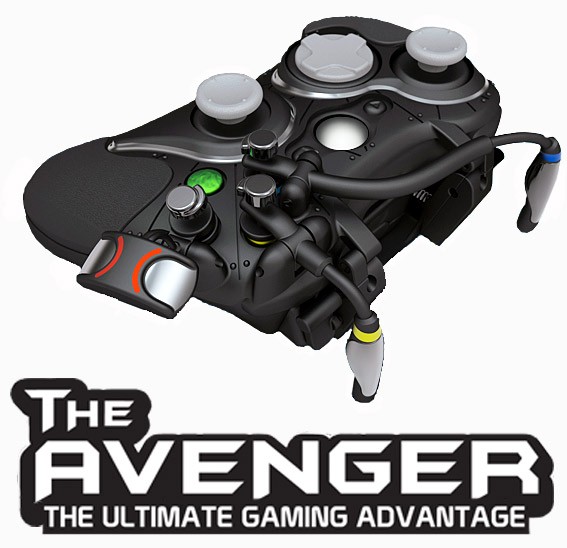 The Avenger is an external adapter that houses the existing XBOX 360 controller to enhance gameplay. This accessory tightly grips the controller's exterior surface, providing an immersive gaming experience through an intuitive user-interface. The adapter transforms the XBOX 360 controller to enhance the gamer's manual dexterity and situational awareness by improving accuracy and reaction-time. This sophisticated accessory is specially engineered for those who want to push their gaming abilities to new heights.
L'adattatore sviluppato da N-Control ottimizza e migliora sensibilmente l'utilizzo di un normale controller Xbox, incrementando vertiginosamente i tempi di risposta, aggiungendo nuovi pulsanti e perfezionando stabilità ed ergonomia.
The Avenger can be customized and fine-tuned to fit your personal style of gaming. You can bend the arms back, increase the tension on hair-triggers, reconfigure the button-layout in the game menu, experiment with the strap-sensitivity, and even use the optional tripod for added stability and precision.
L'Avenger può essere
personalizzato
"accordando" la sensibilità dei pulsanti, aggiungendo o togliendo pesi in modo da trovare la combinazione perfetta per il proprio stile di gioco.
Ricordo che si tratta di un adattatore, in pratica una rivoluzionaria custodia in cui inserire il controller.
Originariamente progettato per prevenire gli infortuni alle mani, polsi, etc, si è dimostrato l'accessorio definitivo per le persone con handicap fisici che avevano difficoltà con i controller normali, come mostra chiaramente il video qui sotto:

Se siete interessati, l'N-Control Avenger, è in vendita qui a $59.00.