Star Wars AT-AT Imperial Walker Loft Bed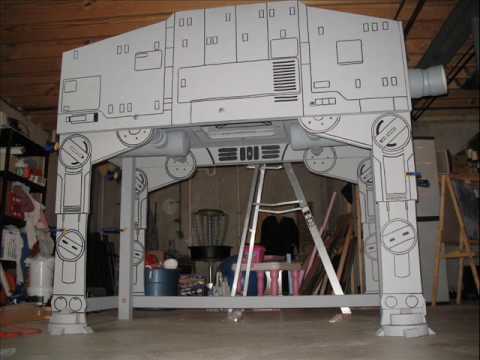 This is a loft bed I made for my son that resembles an AT-AT Imperial Walker.
I searched the Internet and found scale models, cakes, legos, baby strollers and costumes resembling an AT-AT, but never found a bed that resembled an AT-AT. So I made one.
Since it is made from materials readily available at Home Depot or Lowe's, I thought I would post a video/slide show of photos I took during the build process.

Hopefully this will be helpful to someone else who might be considering a Star Wars project for their young jedi!

May the force be with you!
Qualcuno griderà al REPOOOOST!!! per QUESTO vecchio post, ma io lo smentirò, dato che quello vecchio è completamente un letto mentre questo è più tipo una "piattaforma giocabile".
Io lo vorrei.
Domani vado al Brico a comprare l'occorrente.
Via Instructables