Jolicloud 1.0 ora disponibile per il download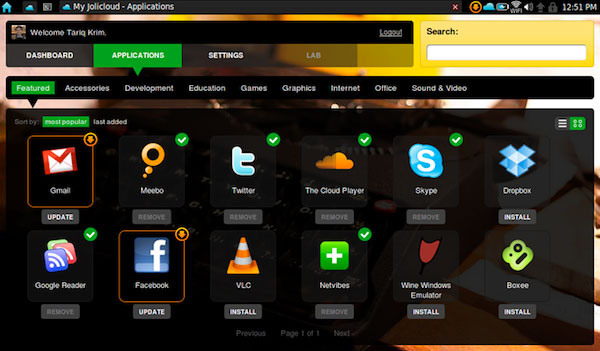 We are excited to announce that you are now able to upgrade your machine to Jolicloud 1.0, the version of Jolicloud we've envisioned since the start.

A Simpler, Customizable Launcher Entirely Built in HTML5
It's up to you to organize your apps the way you want – your launcher is customizable.

An Exhaustive App Center
Jolicloud has selected 700+ of the best free apps to install and share with your friends.

A Social Stream
Through our new Stream feature, you can feel the pulse of the Jolicloud community and discover the apps that your friends recommend.

A Universal File System
Because everything is in one place, it's easy to manage your files and data, whether they're on your machine or in the Cloud.

Experience the Anywhere OS
You can install Jolicloud on as many devices as you'd like, and they will always be automatically synchronized. Any app you download, delete, or move around will be the same on all your other machines with no extra work on your part.
Più informazioni sulla nuova versione sul blog ufficiale di Jolicloud.
http://www.jolicloud.com