50 sfumature di grigio è uno dei film che segneranno il 2015. Nelle sale da stasera, questo film dalle grandi aspettative ha già sollevato sonore critiche. Ci hanno assicurato però che Dakota #turbofiga Johnson è nuda per buona parte del film.
Un tripudio di critiche unanime hanno stroncato questo adattamento cinematografico tratto dal best-seller che ha fatto bagnare stuzzicato tante donne in giro per il mondo.
Cinquanta sfumature di grigio è una commedia romantica in salsa erotico-pop che sfora nel melò.
(…) L'esistenza di un Christian Grey è plausibile quanto quella dei Puffi.
Cit. Valentina D'Amico – Movieplayer.it
Durante la visione c'è chi si addormenta (Cinquanta sfumature di noia?), c'è chi ride quando non dovrebbe (Cinquanta sfumature di paperissima?) e c'è chi pensa inevitabilmente ad altro (Cinquanta sfumature di vuoto)
Cit. Anna Maria Pasetti – Il Fatto Quotidiano
50 sfumature di grigio è un esempio conservatore in cui, i germi retroguardisti di Twilight esplodono in un oceano di maschilismo d'altri tempi. La ragazza conquistata a con sguardo magnetico da un uomo potente che le detta i tempi del rapporto (mentre lei soffre, piangendo a casa) e si fa perdonare con regali costosi. Addirittura in una scena Mr. Grey presenta come gesto di benevolenza il portarla fuori a cena una volta a settimana e lei, che è donna e quindi le piacciono queste smancerie, ride felice dando a pensare che "allora lo vedi che alla fine mi vuole bene nonostante minacci il fisting".
Cit. Gabriele Niola – Wired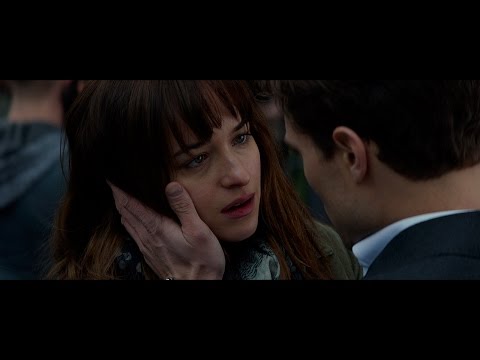 Ma la critica più grave, viene dagli esperti di pratiche BDSM
Di seguito vi citiamo l'intervento in inglese, dove vengono snocciolati tutti gli errori ed i malintesi presenti nel film.
With Fifty Shades of Grey being made into a movie, I've tried to raise awareness how this book is not about BDSM, but rather domestic and sexual abuse. Many women argue that the relationship in the book is BDSM, but that paints BDSM in a bad light.

BDSM is a community that believes in safety & comfort. Consent is always necessary, and partners take care of each other. After acts and roleplays, partners comfort each other to help transition out of that zone. FSOG does not include any of this. Mr. Grey gives Anastasia (a then-virgin) an ultimatum; to sign a contract or leave. She is sexually inexperienced (being a virgin) and he manipulates that to push her boundaries to make it seem like the sexually violent things he is doing to her are okay. There are instances where after an act, he is mad at her for being upset, but does not comfort her. He uses alcohol to sway her consent – this is by law rape. There is also an instance where she uses the safe word, yet he continues. That is consent being retracted, and Christian ignores the retraction of consent. That is sexual assault.

Those are not the only problematic instances. Anastasia begins to hide things in fear of Christian's anger. He becomes jealous and easily angered. Anastasia fears for her safety. Experts have even matched her behavior with that of abused women, in accordance with the Centers for Disease Control and Prevention's description of partner violence.

This book completely throws people who participate in BDSM completely under the bus by misrepresenting BDSM as a whole. Bad people do sneak into BDSM to find a way to escape persecution for their violent ways, but the majority of those in BDSM are not abusive, like this book would have you believe.

This book romanticizes and fetishizes abuse, and painting abuse in a 'sexy' and 'fun' light is really dangerous for women. 1 in 5 women will experience domestic abuse in their lifetime—that's why this book should not be defended. Making this behavior seem okay to accept from a man is dangerous, and people will be influenced to dabble in 'BDSM,' but not have an actual idea of what it is, and they will get hurt.

It is up to every individual what they read, never anyone else. The point of this post is to point out how FSOG is problematic, not to police anyone's reading habits. I know many women (and men) defend this book and don't understand how it can be seen as abuse, but it is. And I hope more awareness will be raised so this does not influence others.
Ne viene fuori una visione maschilista mascherata da Harmony, che mostra scarso rispetto per la figura femminile e per le regole in genere. Per i veri appassionati del dettaglio, aggiungiamo un elenco sommario delle peculiarità all'interno del film.
I Numeri di 50 Sfumature di Grigio
27, anni di Christian Grey
21, anni di Anastasia Steele
10, ascensori presi da Anastasia nel film
4, regali di Christian ad Ana(l)stasia
39, gli ansimi di Anastasia durante i rapporti con Christian
15, le ex di Christian
7, i calici di vino bianco bevuti da Anastasia
7, le sculacciate inferte ad Anastasia con la mano
6, le frustate al sedere con una cinghia
1, la piuma di pavone usata per accarezzare il corpo nudo di Anastasia
4, le volte in cui Anastasia è stata bendata
1, il gatto a nove code usato per accarezzare Anastasia
3, le volte in cui Christian sbatte il gatto a nove code sulla pancia di Anastasia
5, le volte in cui sono stati legati i polsi di Anastasia
1, la stoccata del frustino sul dorso della mano di Anastasia
3, le volte in cui Anastasia si morde il labbro
1, il cubetto di ghiaccio fatto cadere sui capezzoli di Anastasia
0, i panini realizzati da Anastasia
Dopo questa attenta analisi cosa ne pensano i cari VeriNerd™? Saranno ancora dell'idea di portare la gentil donzella a vedere questo film chiacchierato nella sera di San Valentino, con la speranza magari di farla scaldare? E se si…
come la mettiamo con i panini?