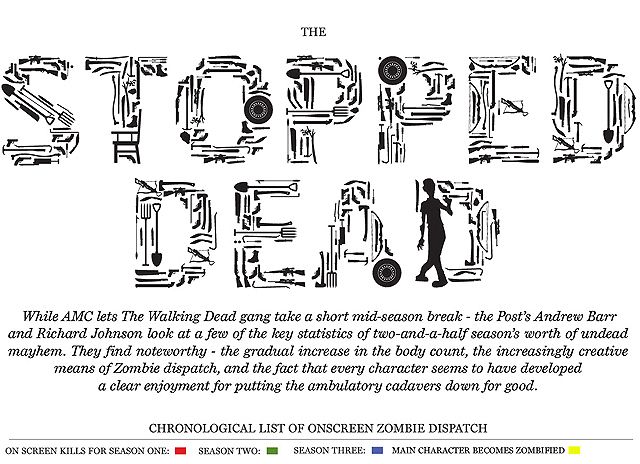 While AMC lets The Walking Dead gang take a short mid-season break the Post's Andrew Barr and Richard Johnson look at a few of the key statistics of two-and-a-half season's worth of undead mayhem. They find noteworthy the gradual increase in the body count, the increasingly creative means of Zombie dispatch, and the fact that every character seems to have developed a clear enjoyment for putting the ambulatory cadavers down for good.
Al solito in spoiler la traduzione.
Mentre AMC lascia che la banda di The walking Dead si prenda una piccola pausa di mezza stagione, Andrew Barr e Richard Johnson del Post esaminano alcune delle statistiche chiave di due stagioni e mezzo di distruzione non-morta. Trovano sia degno di nota il graduale incremento nella conta dei corpi, i sempre più creativi mezzi di eliminazione degli Zombie e il fatto che ogni personaggio sembri aver sviluppato un palese godimento nel togliere di mezzo i cadaveri ambulanti una volta per tutte.
Non c'è molto da dire che non sia già stato detto nel quote (o relativa traduzione) a parte un sentito "che santa pazienza!". L'infografica parla da sè e la trovate in tutto il suo cadaverico splendore qui. Apprezzabile soprattutto il riciclo davvero minimo dei disegni per i singoli zombie e la precisione "filologica" con cui le kill sono state assegnate.
via: national post