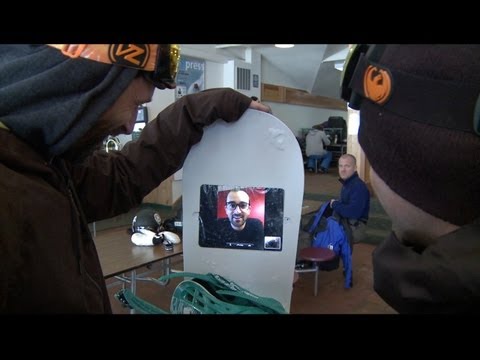 This Every Third Thursday we celebrate Jobs in Snowboarding! No, not our employment, but the man who inspired and built products that almost every snowboarder we know loves and uses in their daily lives. Watch and see as our hardware needs updating a few times to get this snowboard built right!
Signal Snowboards omaggia la scomparsa di Steve Jobs costruendo su misura una tavola da snowboard in pieno stile Apple.
Design semplice, tanto alluminio, logo retroilluminato e, ciliegina sulla torta, tasca porta iPad per FaceTimeare i propri amici durante i trick più assurdi.
La tavola risulta relativamente semplice: base in alluminio, core classico Signal e top layer bianco lucido con logo rainbow. Questa particolare costruzione permette l'eliminazione delle lamine poiché è la base stessa a fornire il grip.
Il risultato è una tavola stilosissima, veloce, precisa e piuttosto rigida.
Esperimento da enneti, imho.
Via Signal