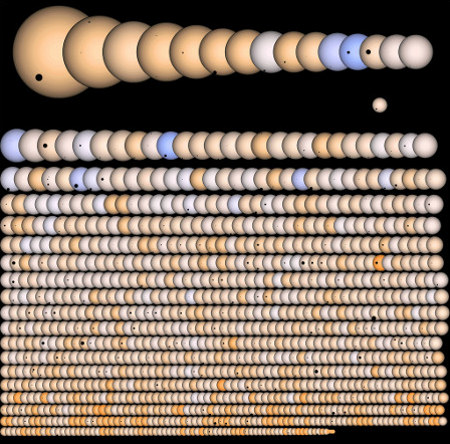 The illustration shows all of Kepler's candidate planets — which await confirmation by follow-up observations — crossing the face of their host stars. This provides scale, and it's also a nod to Kepler's planet-hunting strategy: The spacecraft detects alien worlds by measuring the telltale dips in a star's brightness that occur during these planetary "transits."
To date, Kepler has discovered 1,235 possible planets, with 54 of those candidates located within the so-called "Goldilocks zone" — that just-right range of distances around a star in which liquid water could exist on a planet's surface.

Based on the amazing wealth of planet candidates from Kepler, astronomers have estimated that our Milky Way galaxy could hold as many as 50 billion alien planets, with 2 billion of those perhaps being about the size of Earth.
In parole povere e soprattutto per i non anglofoni, l'illustrazione mostra tutti i pianeti che la sonda spaziale della NASA di nome Keplero ha candidato come "poteziali pianeti ospitanti vita extraterrestre" misurandone la distanza e la dimensione tramite i cali di luminosità della stella durante il "transito" del suddetto pianeta.
I puntini neri indicano la dimensione effettiva dei pianeti rispetto alle stelle presso cui orbitano, rappresentate invece dalle sfere più grandi.
Ad oggi, Keplero ha scoperto 1235 pianeti "papabili" per la vita aliena, 54 di questi si trovano all'interno della cosiddetta "zona Goldilocks" ovvero la distanza ideale da una stella per far sì che si presenti acqua liquida in superficie.
Sulla base di queste scoperte gli astronomi hanno stimato che la nostra Via Lattea potrebbe ospitare 50 miliardi di "pianeti alieni", 2 miliardi dei quali avrebbero oltretutto le stesse dimensioni della Terra.
We are NOT alone.
Foto a risoluzione completa qui.
Via space.com