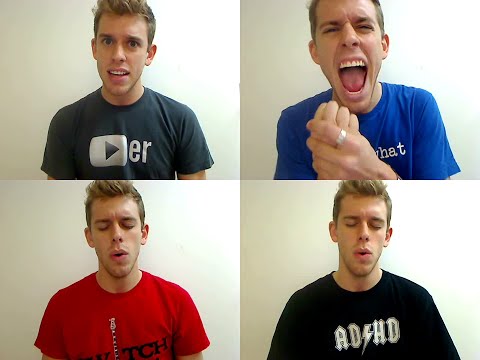 Quando ho trovato questo video sono veramente rimasto impressionato. Un multitrack di così alta qualità non è facile da trovare soprattutto per le doti canore del ragazzo che si destreggia in un arrangiamento a 4 voci delle più famose OST di John Williams cantandoci sopra un testo interamente dedicato a Star Wars.
Poi ho scoperto che Corey non canta, bensì fa (seppur sempre in maniera molto convincente) lip-dubbing….la versione originale del brano è dei Moosebutter come potete vedere in questo questo precedente articolo.
Nell'approfondimento potete trovare il testo completo che vanta sezioni come Raiders of the lost Wookiee, Giurassic Darth e diverse altre veramente geniali:
Potete seguire Corey e le sue imprese canore sulla sua pagina personale di youtube, su FaceBook o in alternativa via twitter.
Ora veniamo alle presentazioni, visto che è buona creanza nei vostri confronti dirvi chi si cela dietro a Notker, neo-autore al suo primo articolo.
Al secolo Alessandro Balboni, faccio ingegneria delle TLC (prossimo alla laurea magistrale) e mi sto diplomando in tromba….questo spiega perchè come primo articolo abbia scelto un video canoro: racchiude sia il mio lato nerd, che quello musicale.
Ultima nota di colore: il mio nick deriva da un monaco del monastero di San Gallo del IX sec. diventato famoso per aver teorizzato le sequenze gregoriane, tale Notker Balbolus. Vista la mia passione per la musica antica e considerato che il mio cognome deriva direttamente dal suo, ecco speigato il mio nick!