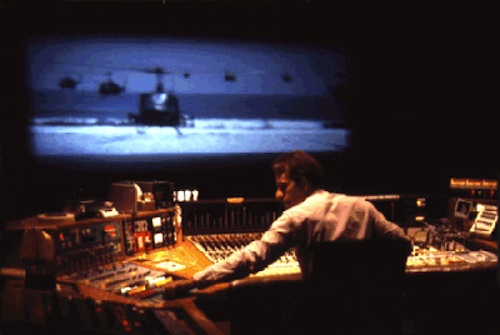 Il tizio che vedete nella foto si chiama
Walter Murch
, mostro sacro del montaggio e del sound-design, qui ripreso durante la lavorazione di Apocalypse Now di Coppola.
Prima che qualcuno di voi pensi che Murch sia un retrogrado incapace di adattarsi alle novità, sappiate che oltre ad aver ideato alcune tecniche di montaggio ed essere tra i creatori dell'audio multitraccia 5.1, è famoso per aver ricevuto Oscar e Nomination usando 4 tecnologie differenti:


* Julia (1977) con una moviola verticale
* Apocalypse Now (1979 – Oscar), Ghost (1990) ed Il Padrino Parte III (1990) con una moviola orizzontale KEM
* The English Patient (1996 – 2 Oscar) con Avid e
* Cold Mountain (2003) usando Final Cut Pro.

Avevo scritto un bel post ma un update della Lega me l'ha bevuto, dovrete per il momento accontentarvi dell'articolo di Roger Ebert, critico cinematografico del Chicago Sun-Times, dal titolo inequivocabile Why 3D doesn't work and never will. Case closed. che riporta una lettera scrittagli da Murch.
Riporto la lettera completa nell'approfondimento:
Mostra Approfondimento ∨
Se avrete la pazienza di leggerla troverete una serie di spiegazioni – non solo strettamente tecniche – sul perchè il 3D sarà una tecnologia che fa vendere ma non è adatta al cinema sul grande schermo.
Ma se la domanda è "how long will it take people to realize and get fed up?", beh, noi ci siamo già arrivati da un po'.