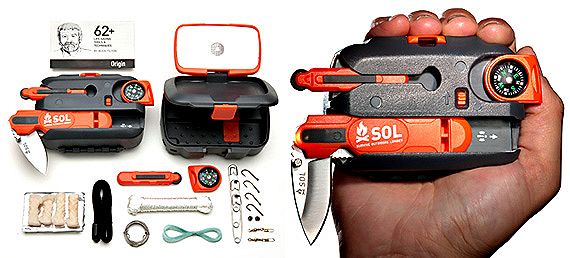 Per il Nerd che durante le vacanze di Natale andrà a caccia di orsi o semplicemente per fare il ganzo con gli amici al pub, un altro survival kit che fa di tutto e di più ma ovviamente, nel bisogno, non servirà ad una ciolla.
Anyway, per 50$ vi portate nel palmo della mano:

* AUS 8 steel blade with lockable liner is harder, holds an edge longer and sharpens easier than common steel.
* Rescue Flash Signal Mirror flips open from top lid and features 20 mile signal power.
* Fire Lite striker emits a powerful shower of sparks.
* Whistle – pealess and fail-safe up to 100db.
* 10 lumen LED light provides powerful task lighting.
* Removable directional compass.
* Waterproof compartment protects your valuables.
* Additional 10′ stainless steel wire, 10′ nylon cord, foil, tinder and survival instructions help you get back alive.
Il sito comunque contiene un sacco di altre idee utili per gli amanti dell'avventura… ;-)