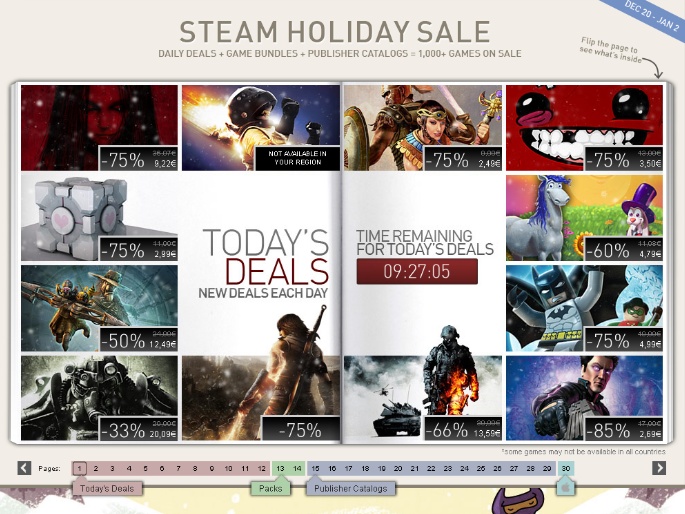 Anche Steam parte coi saldi! Ma solo per altre 9 ore!
(8… 7…)
Quindi se siete interessati andate subito a spendere i vostri soldini!
Ci sono dei pezzi niente male!
Portal a 2.99€
Valve Complete Pack a 49€ con dentro:

Counter-Strike
Team Fortress Classic
Day of Defeat
Deathmatch Classic
Half-Life: Opposing Force
Ricochet
Half-Life
Counter-Strike: Condition Zero
Half-Life: Blue Shift
Half-Life 2
Counter-Strike: Source
Half-Life: Source
Day of Defeat: Source
Half-Life 2: Deathmatch
Half-Life 2: Lost Coast
Half-Life Deathmatch: Source
Half-Life 2: Episode One
Portal
Half-Life 2: Episode Two
Team Fortress 2
Left 4 Dead
Left 4 Dead 2

Bundle delle versioni speciali dei due Monkey Island a 7,49€!
http://store.steampowered.com
Via :bazinga: Bazinga privato di Tobo!