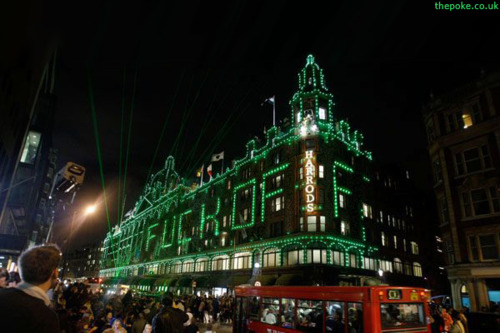 'Fuck off Harrods' done by a disgruntled employee, fired by Harrods from his job as the toy department's Father Christmas, took revenge last night in spectacular style.

Gaining access to a maintenance control room, Lloyd Hudson, 35, from Ilford, Essex, was able to locate the chart and corresponding switches for Harrods' 10,000 external lights.

Barracading himself in, Hudson disabled the correct lights until he could spell out his feelings to Harrods bosses and Christmas shoppers alike. He was removed by security guards after an hour-long stand-off, then handed over to police.
EPIC WIN!
Un ex-dipendente del settore giocattoli di Harrods, si è barricato nella sala controlli ed è riuscito a trovare il pannello che gestisce le 10000 luci esterne della facciata del centro commerciale.
Ha quindi ben pensato di lasciare scritto cosa pensava dei suoi ex-superiori.
EDIT/ è emerso essere un fake: Attivissimo. Le Fu [cit].
Via Coq Baroque