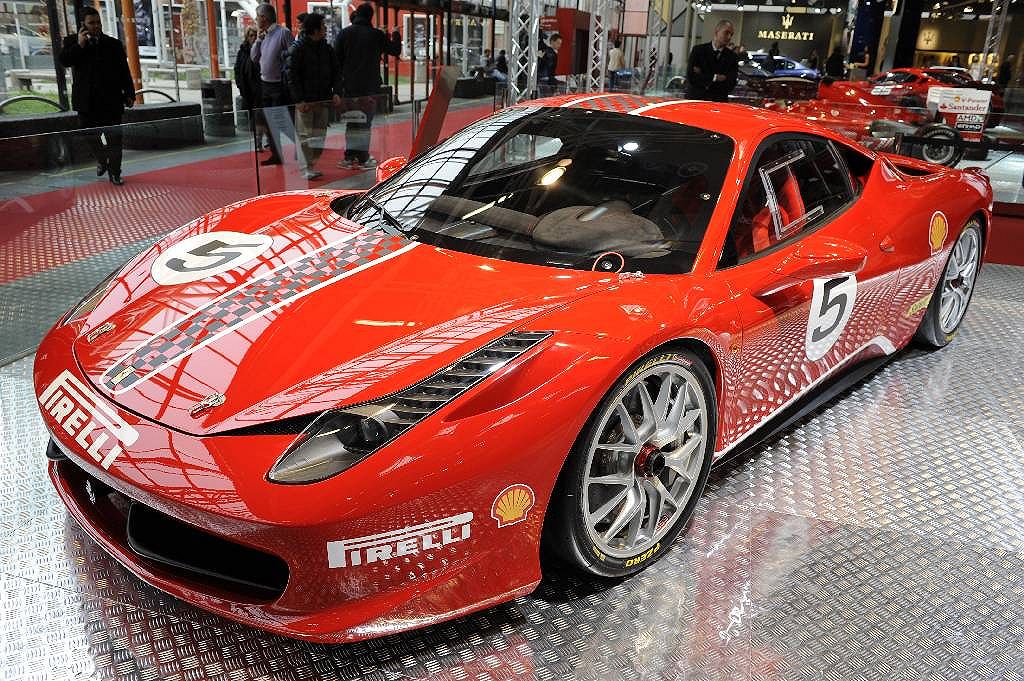 This is the Ferrari 458 Challenge, unveiled for the first time in public at the Bologna Motor Show. And it's not for girls.
As you would deduce from its rather adversarial name, the 458 Challenge is a racing version of this year's glorious rear-drive coupe from Maranello, a coupe which, don't forget, Jeremy declared "absolutely, unbelievably, mesmerisingly, brilliant".
It's designed to compete in a one-make race series, which, says Ferrari, puts "driving emotions at the fingertips of its gentleman-driver clients".As such, the 458 Challenge has been sent to Fat Camp and had its oily bits tweaked to make it two seconds quicker around the Fiorano test track than its predecessor, "resulting in a new record of just 1m 16.5s". Phew.
Ferrari hasn't yet explained exactly how much weight has gone, but it has come via lightweight materials – carbon fibre and something called Lexan – and reducing the thickness of the body panels. Be assured then, the noise from that raucous 4.5-litre V8 will reverberate rather gloriously.
The V8 hasn't been touched and still pumps out 563bhp, but the gear ratios and calibration of the dual-clutch F1 'box have been modified to give higher torque at lower revs. It also gets Ferrari's E-Diff and 'F1-Trac' – the traction control system which constantly monitors grip levels to allow racers to lay down maximum track carnage.
The Challenge also comes with stiffer springs, single-rate alloy dampers, forged 19in rims, a 50mm lower ride height, Brembo brakes (as on the 599XX) and Pirelli slicks.
It's on display in Bologna right now, and you might just want to head down there because Ferrari has marshalled a few more of its creations. More specifically: the F430 GTC racer owned by the AF Corse team, the FXX, 599XX and F60 2009 F1 car. Wanna take this lot on? You better come with steel-plated stones, friend…
Ha debuttato ieri al Motor Show di Bologna la Ferrari 458 Italia Challenge, edizione speciale della 458 Italia dedicata alle varie Coppe Challenge messe in palio ogni anno da Ferrari, riservate ai clienti. Essa segna quindi il pensionamento della 430 Challenge e la nascita della 458 Challenge Europa.
La nuova versione è ovviamente più veloce della 458 di serie: durante i collaudi effettuati nella pista di Fiorano, la 458 Challenge ha fatto registrare un ottimo 1'16″5, migliorato di quasi 2 secondi il tempo sul giro della Italia, mentre la velocità di accelerazione laterale in curva è arrivata ad un impressionante 1.6G.
via Top Gear