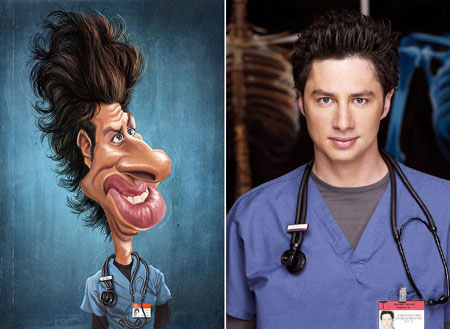 A caricature can refer to a portrait that exaggerates or distorts the essence of a person or thing to create an easily identifiable visual likeness. In literature, a caricature is a description of a person using exaggeration of some characteristics and oversimplification of others.
Caricatures can be insulting or complimentary and can serve a political purpose or be drawn solely for entertainment. Caricatures of politicians are commonly used in editorial cartoons, while caricatures of movie stars are often found in entertainment magazines.
Today we are going to show some Amazing Caricatures by Anthony Geoffroy. Enjoy!
Personalmente le trovo davvero davvero stupende!
L'autore è Anthony Geoffroy di cui potete trovare maggiori informazioni e dettagli sul sito ufficiale o su Deviant Art.
Fonte: da un articolo di Dibakar su Dj Designer Lab
Via Bazinga! grazie a morticcino