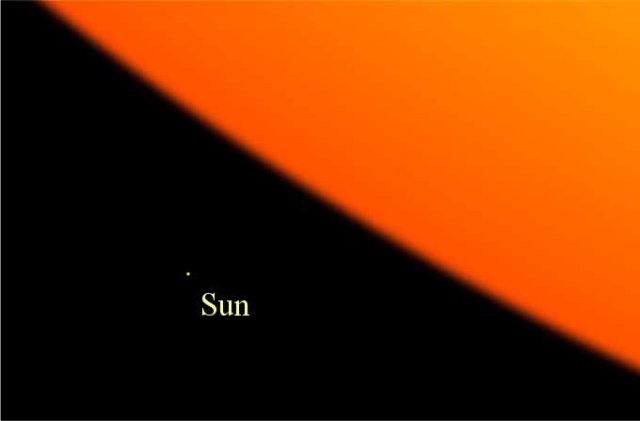 VY Canis Majoris is a red hypergiant star located in the constellation Canis Major. At between 1800 and 2100 solar radii (approx 2.7 billion km across or 1.7 billion miles), it is the largest known star and also one of the most luminous known. It is located about 1.5 kiloparsecs (4.6×1016 km) or about 4,900 light years away from Earth. Unlike most hypergiant stars, which occur in either binary or multiple star systems, VY CMa is a single star. It has an estimated period of 2000 days.

Its volume is almost a billion times that of the Sun, though its density is much less.
VY Canis Majoris (VY CMa) è una stella ipergigante rossa variabile irregolare situata nella costellazione del Cane Maggiore.
È probabilmente la stella più grande conosciuta e, in virtù delle sue dimensioni, una delle più luminose della Via Lattea.
Se non la conoscevate, bè eccovi la cosa più grande mai vista nell'universo, fino ad oggi naturalmente!
http://it.wikipedia.org/wiki/VY_Canis_Majoris