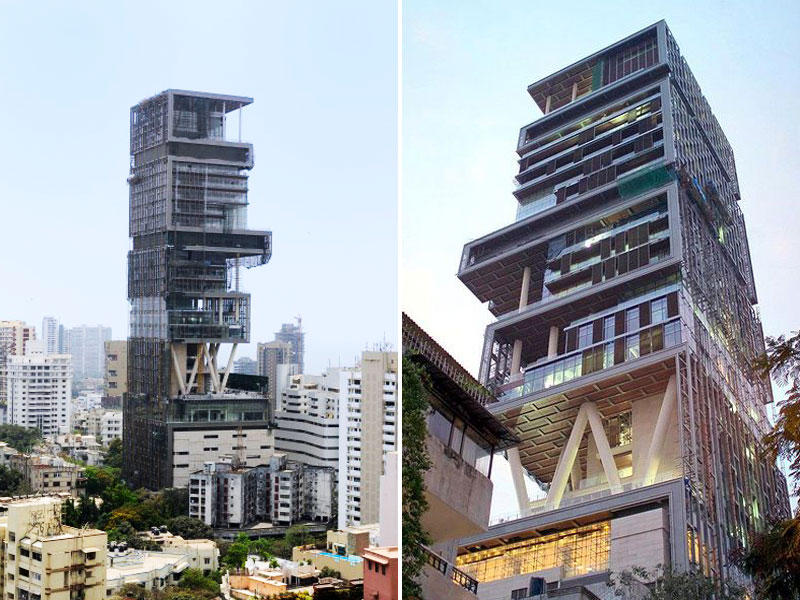 The "Greenest of All Buildings" was recently completed in Mumbai, India and we couldn't be more appalled. The Antilia house which unveiled its first renderings just over two-years ago has become a frightening reality, egregiously boasting 27 stories at 568 feet high, with a total area of over 398,000 square feet of living space.
Oltre ad essere la più costosa casa privata del mondo (1 miliardo di dollari il costo per costruirla) è anche la più alta visto che ha qualcosa come 42 piani.. ridotti però a 27 abitabili visto che al proprietario, Mukesh Ambani, piacciono i piani "alti"….
Designed to house Ambani's fortunate family of six and a doting staff of 600, this enormous mansion will also have six floors dedicated to pampered storage and parking for a collection of at least 168 automobiles.

Included in this magnificent residence will also be a full-service spa, fully-equipped gym, a home theater that should turn Hollywood moguls green, and multiple floors set aside for visiting dignitaries and guests.

The family will have to make do with the top four stories set aside for their viewing and living pleasure.
Mukesh Ambani è l'uomo più ricco d'India e il quarto al mondo.