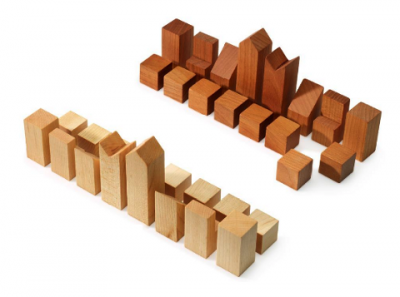 The game of chess is possibly the best time pass while on an extended voyage or journey, but you cannot move your bulky chess sets with you all the time. Have a look at this modern chess set by Lanier Graham, which presents a minimal yet functional design to keep you busy and entertained on the go. An official part of MoMA's collection, the portable chess set includes pieces designed to reflect their relative importance and the range of mobility on the board. Users can recognize each piece with its unique size and shape, such as knights present the "L" shape, bishops slope diagonally, and so on. Now, all you need to do is find an equally efficient player who could counter your moves. In case you don't find anyone, you can take all the pieces off the box and reassemble them like a puzzle in the compact box. Featuring the pieces made in cherry and maple wood, with a natural oil finish, to differentiate each side, the minimal chess set (without chessboard) is available for $65 at the MoMA Store.
Sorpresa!
Stile, design e minimalismo direttamente dal 1966.
"Less is more", sempre.