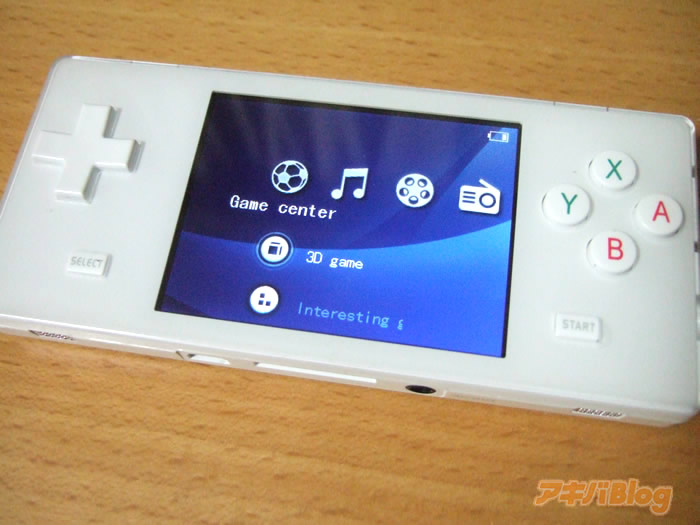 The Pocket Retro Game Emulator looks a bit like the GameBoy Micro but that's where the similarities end. Load on NES, SNES, GBA, Sega Genesis, or Neo Geo roms and play your old favorites in the palm of your hand. With 4GB of built-in storage and a mini SD slot for expansion you can bring every single game from the best classic consoles with you. Of course in typical all encompassing gadget style you can also play movie files, audio files, use the built-in FM radio, view jpg images, Read E-books, do voice recording etc…
Dingoo è una console portatile cinese specificatamente pensata per l'emulazione, e il suo sistema operativo permette difar girare nativamente giochi NES, SNES, GBA, Sega Genesis e CPS1-2 (Capcom Play System 1).
Ha alcune funzionalità extra come riproduzione di foto e filmati, apertura di e-books e radio FM, che lo rendono un compagno abbastanza completo per il tempo libero ad un prezzo più che abbordabile.
Su ThinkGeek è offerto a 99.99$, mentre il distributore italiano GlobalTecno lo ha messo in catalogo a 78,90€ (in offerta, attualmente out of stock).
Consigliato ai videogamer degli anni '80-'90 che magari non dispongono ancora di una piattaforma handheld per l'emulazione (come ad esempio un DS o una PSP flashata o uno smartphone con emu).
Specifiche tecniche:
Product Features
* Mini Handheld gaming system plays roms from your favorite 8 and 16 bit game consoles
* No emulator software to load. Just copy over the roms and start playing.
* 4GB of internal storage, expandable via mini SD
* Beautiful 2.8 inch QVGA (320×240) LCD Screen
* Output to TV via included composite video cables
* Full media player functions including videos, music, FM radio, e-books and voice recorder
* Built-in Stereo Speakers
* Internal li-battery gives 6-8 hours of runtime on a single charge
Product Specs
* Primary Function: Gaming and media player entertainment system
* Display: 2.8 inch QVGA LTPS (Low Temperature PolySilicon) LCD Screen
* Color: Black
* Memory:
– Internal 4GB
– External Mini SD card (SDHC)
* Controller Specs:
– 8 Position D-Pad on left
– Y, X, A, B buttons on right
– L, R shoulder buttons on top
– Select, Start buttons below controls
– All buttons user definable for gameplay
* Gaming Console Modes:
– NES (Nintendo Entertainment System – 8bit)
– SNES (Super Nintendo Entertainment System – 16bit)
– Sega Genesis (Sega Mega-Drive – 16-bit)
– GBA (Nintendo Game Boy Advance)
– Neo-Geo (SNK Neo-Geo)
– CPS1 and CPS2 (CAPCOM, arcade game systems, 1st and 2nd edition)
* Compatible Video Formats: FLV, WMV, ASF, RM, AVI, MPEG, MP4, RMVB, SWF
* Compatible Audio Formats: MP3, WMA, APE, FLAC
* I/O Slots
– Earphone jack
– Mini-USB port
– Mini-SD slot (SDHC)
– AV OUT (output to TV – NTSC or PAL, 16:9 or 4:3)
– Stereo Speakers
* Additional Media Functions:
– FM Radio with recording function
– Voice Recorder (MP3, WAV)
– Image viewer (JPG, BMP, GIF, PNG)
– Ebook reader (with text to speech function)
* Bult-in li-battery gives 6-8 hours of runtime on a single charge
* Dimensions: 125mm x 56mm x 14mm (L x W x H)
Package Contents
* Portable Game Player
* AC Adapter (100-240V 50/60hz)
* USB Cable
* User Manual – English
* Earbuds

Video da ThinkGeek: