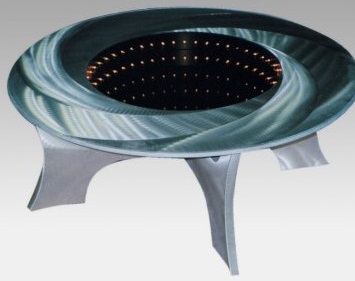 Experience the excitement of space travel without the risks by getting the Nova Black Hole Illuminated Coffee Table instead. This futuristic table features a center section with rows of white LED lights that look like a black hole sucking up light rays. The glass table top protects you from falling in. The rest of the table is made from aluminum in a shiny silver finish and shaped a bit like an alien spaceship. Functional and innovative, this table will look as good in your home as it would in the Jetsons' living room.
A Jon Gilmore Design
Futuristic space design
Aluminum base looks like a spaceship
Interior space with 50 white LED lights
Glass top so you can peer into the black hole
Dimensions: 42W x 42D x 16H inches
Incautamente vostro per soli $1,069.99..
Credo che l'unica soluzione sia accendere il Brad(ipo)segnale ed aspettare..
http://tinyurl.com/novacoffeetable