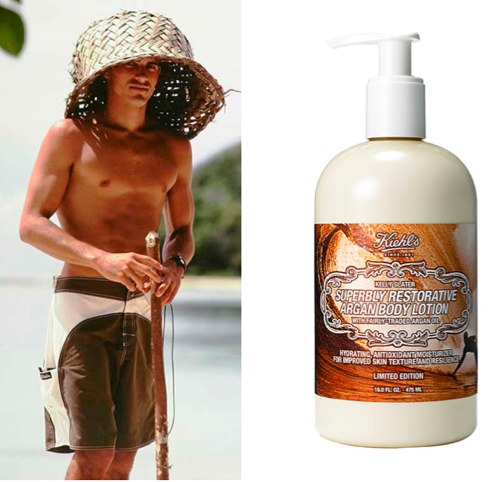 There's one thing I've always wondered and that's how Kelly Slater manages to maintain such softness, tonacity and radiant, healthy-looking skin. After all, surfing in the glaring sun day after day might provide a perfect tan, but isn't exactly ideal for epidermal health.

But alas, I think I have figured Kelly's secret. Slater lathers himself up in Superbly Restorative Argan Body Lotion. Yes, it's true! Kelly Slater has a line of body lotion. But before you laugh too hard (or break out your credit card for a $55 – 16oz bottle) I need to let you know two things:

1) The lotion is "Blended with Moroccan argan oil and argan leaf extract, this naturally preserved formula is enriched with antioxidants and essential fatty acids to help optimally hydrate and reinforce skin's defenses against free-radical damage and help to improve skin texture and tone."

2) Slater has partnered on the line because the proceeds are donated to the Waterkeeper Alliance which supports clean oceans around the world.

So go get some silky smooth skin like Slates!
Se vuoi la pelle come gli Slater allora devi comprare questa lozione! :D