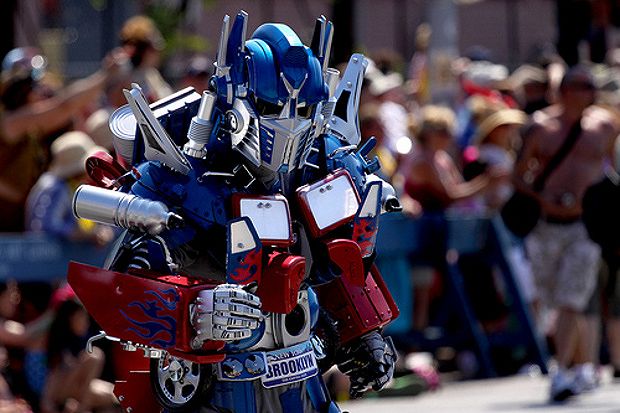 Cosplay fatto in casa tema Optimus Prime per una parata a Brooklyn.
He took 275 hours to build, and this is 'Version 2'. His upgrade to 'Version 3' has begun, and he'll get new wheels, feet, lower legs, & knees.
Some of B-Prime's parts:
coat hooks (2 types), toothbrush holders (2 types), sponge holders, dish drain basin parts, shin guards (not on my shins), hair clip, socks, sport drink bottles, lots of plumbing supplies, baby's pacifier, tooklkit boxes, closet pole & shelf mounts, juice cans, lots of cabinet hardware (knobs &
handles), sunglass lenses, auto mirrors, smoke detector mounts, 2 belts, kid's toy helmet (after 15 hours of detailing), hair band, egg slicer, bottle caps, football chest protector, ab exercise wheels, fanny pack, army boots,
…and lots and lots of plastic from:
trash cans, buckets, cleaning product containers, storage containers & lids (anything with an interesting shape or curve…) plus, a few hardware things that even I can't figure out!
Non male dai!